Now that I have two boys, I feel like I have to steal moments with each child, my husband, and for myself. Some of my favorite stolen moments have been reading to my five year old (Q). Every week we go to the library to pick out books to read with his brother (the baby) and a few for just us. After attempting to read a book with his brother we steal a moment for just the two of us. He loves when we get the time just between the two of us to read.
So, I have to explain how my son picks out his books at the library. He loves to walk down the bookshelves and grab random books. This is too crazy for me. I like to check the book out and wonder what it will be about (my own stolen moment, even if I am holding the baby). Trying to get him to pick the classics or at least a few books that are familiar is impossible. To save bother our sanity, I give him his library bag and let him free to fill it with his loot, while I pick a few of my childhood (okay current) favorites.
After our library trip this weekend, I checked out what Q had picked out. I let him pick the book he wanted to start our reading marathon. I was a bit skeptical when I saw his selection. A little afraid of what I might find in the book. Lets face it every book has its good quality, but there are a few that don't hold up to what we wish for in an escape to a fantasy world.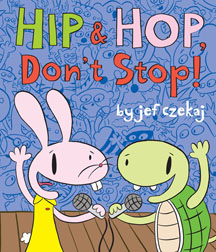 This book was a pleasant surprise! We giggled throughout the whole book. We found ourselves reading and rereading this book throughout the weekend. This book is now on my list of must haves. I would recommend this book to every reading out there! Thank you Jeff Czekaj, for giving me this special moment with my son!